ADVERTISEMENT
Admin ignores law that bans products made by Uyghur slave labor
SHARE
Congress is seeking answers on whether Chinese companies are skirting U.S. sanctions that bar the importation of goods made with Uhygur slave labor.
Congressional investigators recently found that grocery stores around the country, including in Washington, D.C., and its surrounding suburbs, are selling red jujube dates, an Asian fruit that is produced and packaged using Uyghur slave labor in China's contested Xinjiang province. A coalition of 27 Republican lawmakers is demanding answers from the Treasury Department and Customs and Border Protection about how these goods are making their way to American shelves and enriching Communist companies that rely on slave labor, according to a copy of the letter obtained by the Washington Free Beacon.
Under the Uyghur Forced Labor Prevention Act, which was passed in June, the importation of Chinese Communist Party goods that are produced with Uyghur slave labor is illegal. But this has not stopped a sanctioned Chinese company known as XPCC from selling its jujube dates to a middleman, Qingdao Daochuan Food Company Limited, which offloads the products to a Brooklyn-based distributor, according to the lawmakers. The sanctions-busting scheme, congressional sources say, is reminiscent of tactics used by the Iranian regime to skirt similar human rights sanctions. The appearance of these products in the United States is fueling accusations that the Biden administration is failing to uphold the law.
"Selling products made by Uyghur slave labor is both illegal under the Uyghur Forced Labor Prevention Act (UFLPA) and morally abhorrent," Rep. Mike Gallagher (R., Wis.), one of the letter's signers, told the Free Beacon. "Customs and Border Patrol has been directed by Congress to ensure no goods made in the Xinjiang Uyghur Autonomous Region are permitted to enter American markets, and the presence of these red dates in American grocery stores is a clear failure by the Biden administration to enforce this law."
XPCC, the company producing the dates, is a Chinese state-owned economic and paramilitary organization operating in China's Xinjiang Uyghur Autonomous Region, or XUAR. The company was first hit with sanctions in 2020 for human rights violations, and all U.S. persons and entities are barred from conducting transactions with it.
But jujube dates produced by XPCC were recently found in several locations, including a supermarket in the D.C. suburbs, according to photographic evidence taken by a congressional staffer and presented in the letter. The packaging "unambiguously indicates that XPCC is the producer," the lawmakers write, adding that some of the products are even "labeled with XPCC branding—a logo of XPCC soldiers saluting a red communist banner printed on the bags themselves."
Third-party sellers on Amazon also are selling versions of these dates.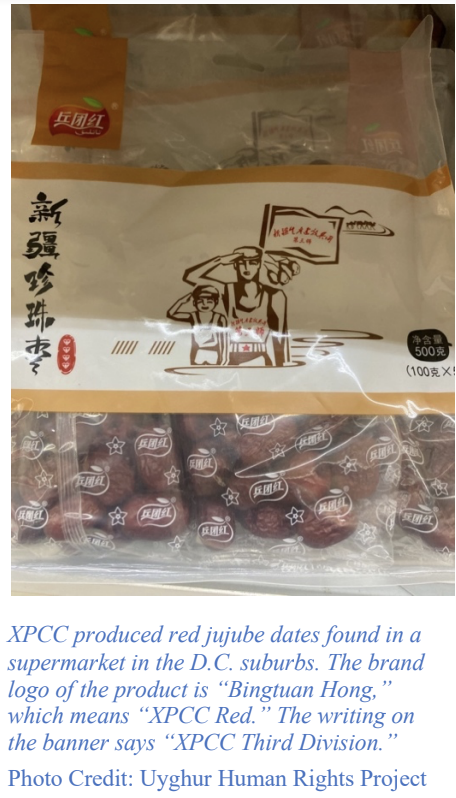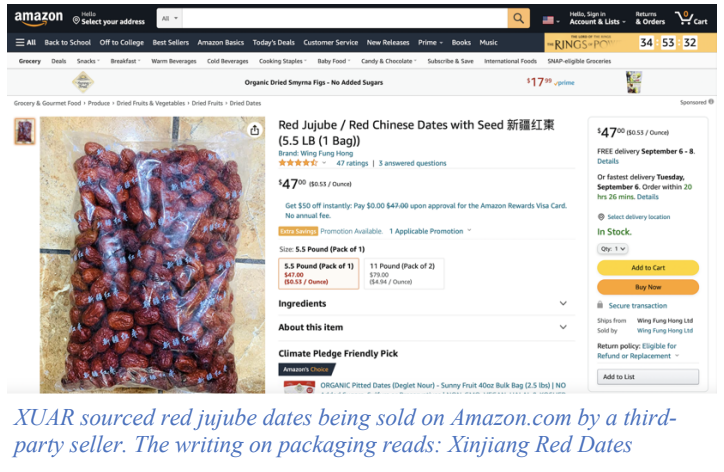 The Uyghur Forced Labor Prevention Act "mandates that U.S. Customs and Border Protection (CBP) detain all products" emanating from the Xinjiang Uyghur Autonomous Region "on presumption that the goods were produced with forced labor," the lawmakers write. Still, exports from the region "hit a two-year high," raising questions about the Biden administration's enforcement efforts.
"The fact that the red jujube dates sourced from XUAR are widely available in the U.S., even through online retailers such as Amazon and often explicitly having XPCC symbols, raises important questions about how serious [Customs and Border Protection] is enforcing U.S. laws against China's forced labor practices," the letter states.
The lawmakers are demanding the Treasury Department and Border Patrol disclose how many shipments of red jujube dates have been allowed into the United States since sanctions went into effect and explain why XPCC is not facing any civil penalties. They also want to know if Qingdao Daochuan Food Company Limited, the alleged middleman in the transactions, could be found "complicit in serious human rights abuse."
"U.S. supermarkets are carrying XPCC-labeled products with Communist imagery," Rep. Jim Banks (R., Ind.), who helped spearhead the letter along with Gallagher and Rep. Mike Waltz (R., Fla.), told the Free Beacon. "The Biden administration isn't taking the issue of Uyghur forced labor seriously and is failing to enforce bipartisan laws prohibiting business with entities using Uyghur forced labor."
Published under: Biden Administration, China, Communist Party, Feature, Sanctions, Slavery, Uyghurs, Xinjiang
2022 All Rights Reserved